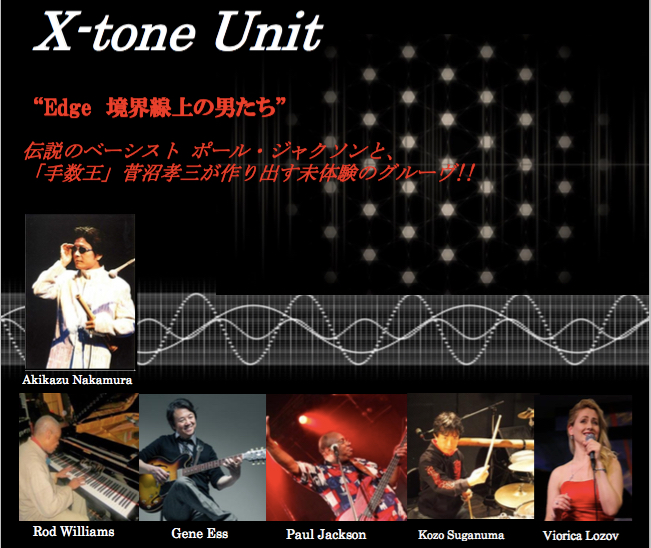 8月18日 X-tone Unit 公演@六本木サテンドール メンバー紹介!
まず第一弾は、Guitar Gene Essさんです!
暑い夏に、熱い男たちが、ライブパフォーマンスを開催します。
今回は、X-tone Unit のメンバー紹介です。
メンバー5人とゲスト・ヴォーカリストのヴィオリカさんのご紹介を、
これから順にさせていただきたいと思います。
皆さん、素晴らしいミュージシャンの方々です。
こんな豪華なメンバーが一堂に会するコンサート。
是非、お聴き逃しなく!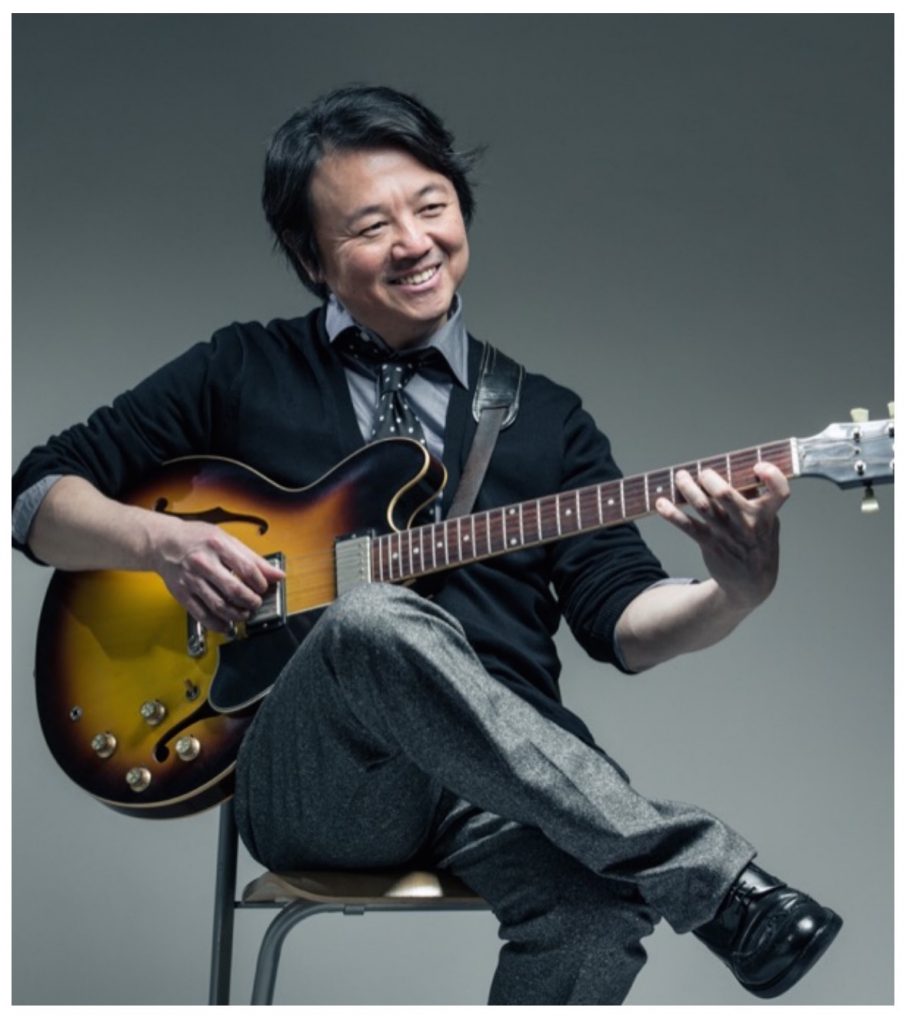 Gene Ess(Guitar)ジーン・エス
バークリー音楽大学卒業。NYを中心に活躍するジャズ・ギタリスト。ラシッド・アリと世界ツアーをはじめ、カルロス・サンタナ、クラーク・テリー、スライド・ハンプトンらと共演し、ニューヨークのミュージック・シーンでトップアーティストとして輝きを放っている。
Gene EssさんのHP  http://www.jazzgenemusic.com
東京で過ごされていた幼少期は、ピアノを学びクラシック音楽に囲まれていたジーンさん。その後、沖縄の米国空軍基地で過ごされるなかで、沖縄の伝統音楽と米国の軍人たちが集うクラブから流れるポップスやジャズなどを同時に吸収され、音楽の世界に惹き込まれていきます。
14歳という若さで、沖縄のクラブやフェスティバルでの演奏を開始。高校卒業後は、アメリカのジョージ・メイソン大学へ進学。そこでは、ラリー・スニッツラーと共にクラシックを学びました。
1983年、レノックス・バークリー・アワードでの演奏が高く評価され、バークリー音楽学院の奨学金を受けます。バークリーを優秀な成績でご卒業された後、NYに拠点を移されます。(Gene graduated from Berklee with honors in 1990.)
その後も、数々の賞を受賞なさり、米国と日本を股にかけご活躍中のジーンさん。その輝かしい経歴の続きは、以下ジーンさんのBiography(英文)でご覧ください。
〜〜〜〜〜
Award winning guitarist, Gene Ess, draws upon a diverse background to form his unique style. Studying classical piano, Gene's early years were filled with sounds of Beethoven and Chopin. Originally from Tokyo, Japan and growing up on a U.S. Air Force Base on Okinawa, Gene was simultaneously receiving a mix of influences: he was exposed to the indigenous music of Okinawa and – to the pop and jazz music coming out of the clubs for the American soldiers. All this amounted for an early obsession with music
Gene performed in clubs and festivals all around Okinawa at the early age of 14. After graduating high school Gene left for George Mason University. There, he pursued classical music studies with Larry Snitzler, a prominent concert guitarist who was Andrés Segovia's disciple and orchestral composition under Dr. Glenn Smith.
Downbeat magazine presented Gene's performance of Lennox Berkeley's 'Theme and Variations' with the 'Outstanding Performance Award' in 1983. Consequently, Gene received a scholarship to attend the prestigious Berklee College of Music in Boston. There he continued his musical quest and was heavily influenced by the music of John Coltrane. After studies with Jerry Bergonzi and Charlie Banacos, Gene graduated from Berklee with honors in 1990 and moved to New York in 1991.
From 1991 to 2003, Gene worked with the great drummer Rashied Ali (John Coltrane), touring globally and recording a well-received album "No One in Particular". Through this group, Gene met and played with: Carlos Santana, Ravi Coltrane, Matt Garrison, Lonnie Plaxico, Archie Shepp, and Reggie Workman among many others.
Gene's 2009 album, "Modes of Limited Transcendence," has received great reviews globally. This album received the prestigious 2010 SESAC Outstanding Jazz Performance Award. The music features original compositions by Gene and piano wunderkind Tigran Hamasyan.
In 2012, Gene released a new album featuring vocals for the first time. The album titled "A Thousand Summers" will be available February 1, 2012. The music features Nicki Parrott on vocals and beautiful songs from the jazz canon carefully arranged by Gene and Thomson Kneeland.
Gene started a new group called Fractal Attraction in 2013 and the debut album "Fractal Attraction" was released in May of 2013. The album has received international acclaim and also charted on the national jazz radio chart peaking at #3. The quintet includes some of the best NYC jazz musicians and include: Thana Alexa on voice, David Berkman on piano, Thomson
Kneeland on bass, and Gene Jackson on drums. This album received the prestigious "Outstanding Jazz Performance" Award from SESAC in 2014.
The second Fractal Attraction album, "Eternal Monomyth", is slated to be released late April 27, 2015. This set of new music continues Gene's exploration using voice as an instrument in a chamber group setting. The album is a companion piece to the Fractal Attraction album. This album features Thana Alexa on voice, John Escreet on piano, Thomson Kneeland on bass, Clarence Penn on drums, and Gene Ess.
Gene is also a founding member of the Kettle Music collective in NYC. This group presents member concerts, private instruction, group workshops, and look to work with other like-minded international and domestic music collectives in intellectual and artistic exchange.
Over his career, Gene has performed and recorded with many wonderful musicians. Some are: Dave Liebman, Al Foster, Rashied Ali, Clark Terry, Slide Hampton, Carlos Santana, Archie Shepp, Donny McCaslin, Clarence Penn, Reggie Workman, Tigran Hamasyan, Danilo Perez, and Ravi Coltrane. Gene can be heard in various venues and festivals here in NYC and Europe and Asia. Some are: Blue Note NYC, 55Bar, Iridium, ShapeShifter Lab, iBeam, Red Hook Jazz Festival, Yokohama Jazz Festival, Pit Inn, Antibes Jazz Festival, Strasbourg Jazz Festival, Drom, and Teatro Monumental (Madrid).
〜〜〜〜〜〜〜
X-tone Unit  8月公演決定!
"Edge 境界線上の男たち"
〜NYからロッド・ウィリアムズ、ジーン・エスらが来日!〜
ゲストは、モルドバの美しき歌姫ビオリカ!
超絶技法の尺八奏者 中村明一、伝説のベーシスト ポール・ジャクソンと、「手数王」菅沼孝三が作り出すグルーヴをお楽しみください!!
彼ら5人が繰り広げる演奏は、
様々なジャンルのジャズを包含し境界線に至る未知の領域に。
プログレッシブな音楽から、
スタンダードの再構築、フリーミュージックまで。
ニューヨークに縁の深いメンバー5名で、新しい風をお届けします。
(尺八)      中村 明一
(Guitar)    Gene Ess
(Piano)     Rod Williams
(Bass)     Paul Jackson
(Drums)    菅沼孝三
ゲスト
(Vocal)     Viorica Lozov
日時: 2017年8月18日(金)
場所: 六本木サテンドール 03-3401-3080
東京都港区六本木6丁目1−8 グリーンビル5F
開演: 19:30 (開場 18:00)
料金: 2,800-(通し)
Akikazu Nakamura (Shakuhachi:Japanese Bamboo Flute)
Gene Ess (G) from NY
Rod Williams (P) from NY
Paul Jackson(B) is known as a "Musician's Musician"
Kozo Suganuma(D) is known as a "The Fastest Hands"
Viorica Lozov(Guest Vocal)
2017/8/18(Fri) @ Roppongi Satindoll 03-3401-3080
Green Building 5Floor 6-1-8 roppongi Minato-ward Tokyo
Start : 19:30(Open 18:00)
Music Charge : ¥2,800-
(スタッフ:宮原)